FL'X2.4
Le SoiXante AdaDa présente
Thomas DELLACROIX
Projection de cinéma expérimental
le 24 mars 2011 à 20h30
"Silver Screams"
ou la fumée pénètre dans votre esprit
par Thomas DELLACROIX – DELLERT
en collaboration avec AGNIESZKA DELLFINA- DELLERT
STUDIO UTOPIA PARIS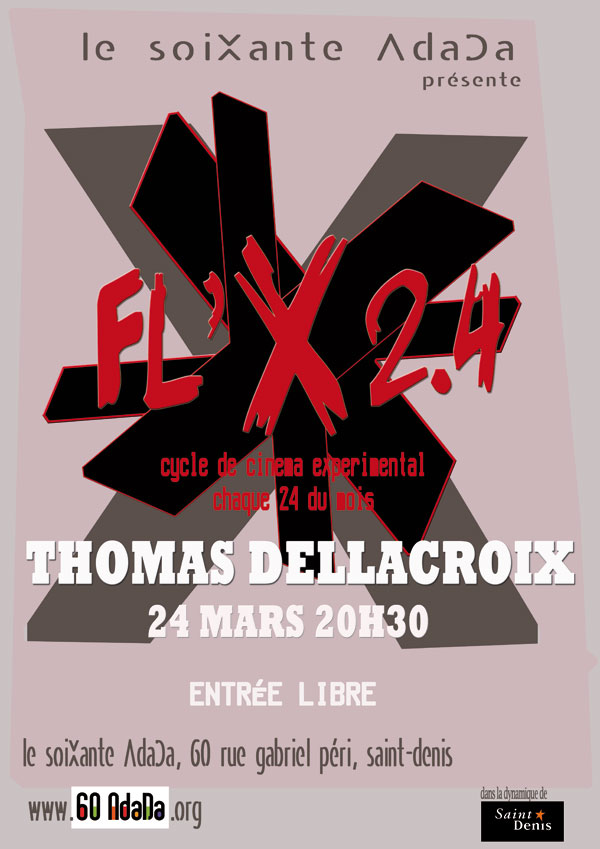 …« Cinema utopia » vous embarque pour un voyage d'humour et d'incompréhensibles paysages cinématographiques. Les artistes Thomas Dellacroix et Agnieszka Dellfina occupent tous les rôles dans ce mélodrame légèrement surréel…
Is it cinema and moviemaking as a reflection of life itself ? build on our collective dreams, hopes and fears.
Is it a play full and ironic view of the art of moviemaking? Or a mishmash of images thrown at you like flipping through the endless channels on your TV remote control ?
We are confronted by the "Golden days of Hollywood Cinema," to the blunt reality of documentary reportage,
through political propaganda film reels, the 1950's commercials and contemporary TV reportage to the unstable steps of a struggling young actress in the shape of her very first screen test.
Well it is certainly an eccentric piece of celluloid .
"Cinema Utopia" takes you on a humorous journey through the obscure landscape of cinema make believe. The artists Thomas Dellacroix and Agnieszka Dellfina plays all the parts in this slightly surreal melodrama.
And are at the same time the Directors and the Producers of there own fate. In the roles of Victims and Killers, Movie Stars and Wannabes, Geniuses and Outlaws they are nearly convincing,
sometimes scary, but always cleverly amusing.
If cinema is all but an illusion, than Dellacroix and Dellfina play there part in the masquerade of confused characters in a supreme way. But if the mirror have two faces ,than we are looking at a moment of touching reality here, in the form of true love.
Build on mutual interest in discovering the other persons inner life and hidden agendas, Dellfina and Dellacroix takes on a slightly serious approach where the whispers and screams are more evident, than the make-up and the dramatic lighting of first glance.
Nils Petter Sundgren –Film Critic